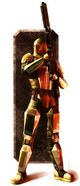 Candro Ordo was a famous bounty hunter named Dead Eyes and was Mandalore the Hunter in 0 A.T.C
BIOGRAPHY
Edit
Candro Ordo was a at first the clan leader of clan Ordo,a slave,a bounty hunter,and a mandalore.And he was a or the desendent of Candrous Ordo.
Early Life
Edit
Candro was born in a village on planet Ordo and became the leader of the village (village looked like Black Rakata village in KOTOR I)and even became the leader of clan Ordo.Then in his 5 year as clan leader Maggar the Hutt's cartel attacked the clan and captured and became a slave to Maggar for a year.
DURING SLAVERY
Edit
During slavery Candro was ashamed that he was captured and killed Maggar and escaped his Monastary and became Dead Eyes.
AS DEAD EYES
Edit
Soon after he went to bounty hunter srvices as a mercnary,he was quicly picked to kill czerka ambassator cerkalerka,a trandoshan employ, and did it in 30 mins.
FROM BOUNTY HUNTER TO MANDALORE
Edit
Candro had to do many other jobs and had a huge reputation then he found an opening for his life long dream of become mandalore at the Geonoisan arena and the arena and became Mandalore the Hunter.